I have been so slow about posting projects that started in 2013, so here are a few sneak peeks of one that I can't wait to show completely when it is finished. The owners did a major renovation to their already charming home in Buckhead, but added on a lovely Master suite, expanded the kitchen with a banquette and bar area, relocated their dining room and made a great slate floor sun room into a more fully liveable, heated and cooled space.
Here's a little preview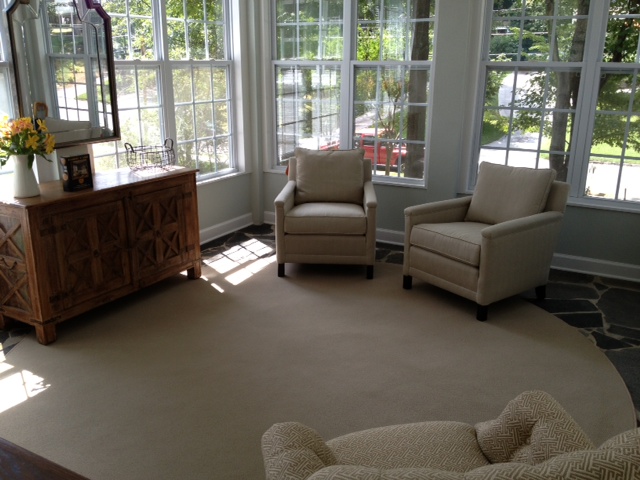 The sunroom is now another living space/sitting area with the new front entry just to the right of this photo; more accent tables, pillows and art to come.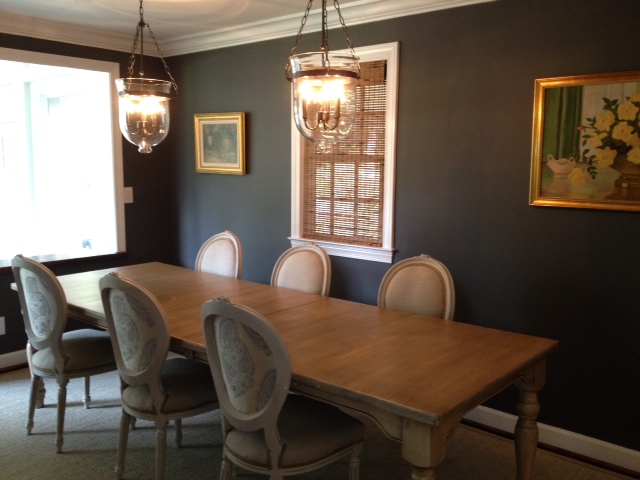 The dining room is mostly finished here other than seeing the head chairs which are against the opposite wall on either side of their hutch. The table was custom made locally, the backs of the chairs were upholstered in fabric selected by my client and now their dining room will comfortably seat 10-12. I love the gold frames against the paint selection. I will blog details on paint colors soon.
The Master suite addition is fantastic. There is a great little sitting area with windows all the way across which we have turned into a cozy spot for reading, taking a nap or just hanging out drinking coffee with the paper. Once again, art, accessories and case goods are not yet added here.
A few things that I have loved about working on this project – first, that the owners have been very open to ideas. They have a great sense of  clean, refined style and yet have also been willing to be innovative with technology. A mirror that becomes a TV in their bedroom, just to name one thing. Secondly, there were great storage ideas built into their renovation plan, and everyone knows that most in town Atlanta homes can use some extra storage. Thirdly,  the paint colors throughout flow very well between rooms and really bring a cohesive feel between the original home and the new renovation. Excited to show you more soon!